Thanks to all the people who came along to our pre-enrollment evening in Graiguecullen G.A.A. club.  It was a great success and it was fantastic to receive such support.  We are entering exciting times now, as a committee.  Also, a big thank you to Minister Mary  White, T.D. for her support again this evening.  We […]
Now you can pre-enrol your child to Carlow Educate Together NS online. This service will go live on the 17th January 2008, the morning after our pre-enrollment evening on the 16th January. Remember, as with all Educate Together Schools, enrollment works on a first-come first served basis so pre-enrol your child as early as possible.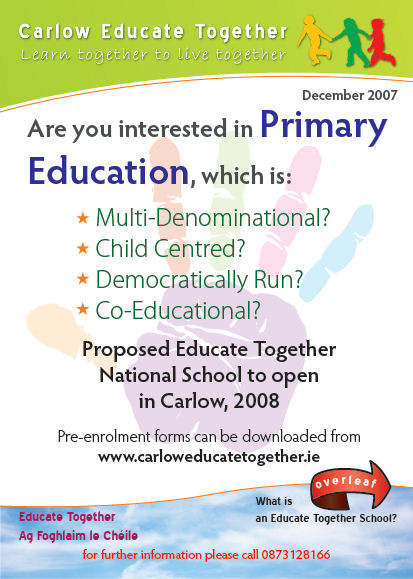 Carlow Educate Together hopes to open its doors in September 2008. To pre-enrol your child, please download our pre-enrolment form. To the left is a preview of our latest flyer, which gives information about the proposed new school. Click on the image to download it.